Tattoos have been around for over 5,000 years. 
They've soared in popularity in recent years thanks to more social acceptance, more intricate styles and designs. Tattoo sleeves are the best way to display a stunning, intricate piece of art in the style of your choice, right on your arm (or leg).  
What is a Tattoo Sleeve?
A tattoo sleeve is a large tattoo, or a series of smaller tattoos that wrap around someone's limb. Although leg sleeves are increasing in popularity, they have been traditionally placed in the arms.  
Many times the sleeve has a cohesive theme, whether that be style or color, but sometimes it's just an assortment of different tattoos. They're very popular because they allow people to express themselves by putting meaningful art on their skin.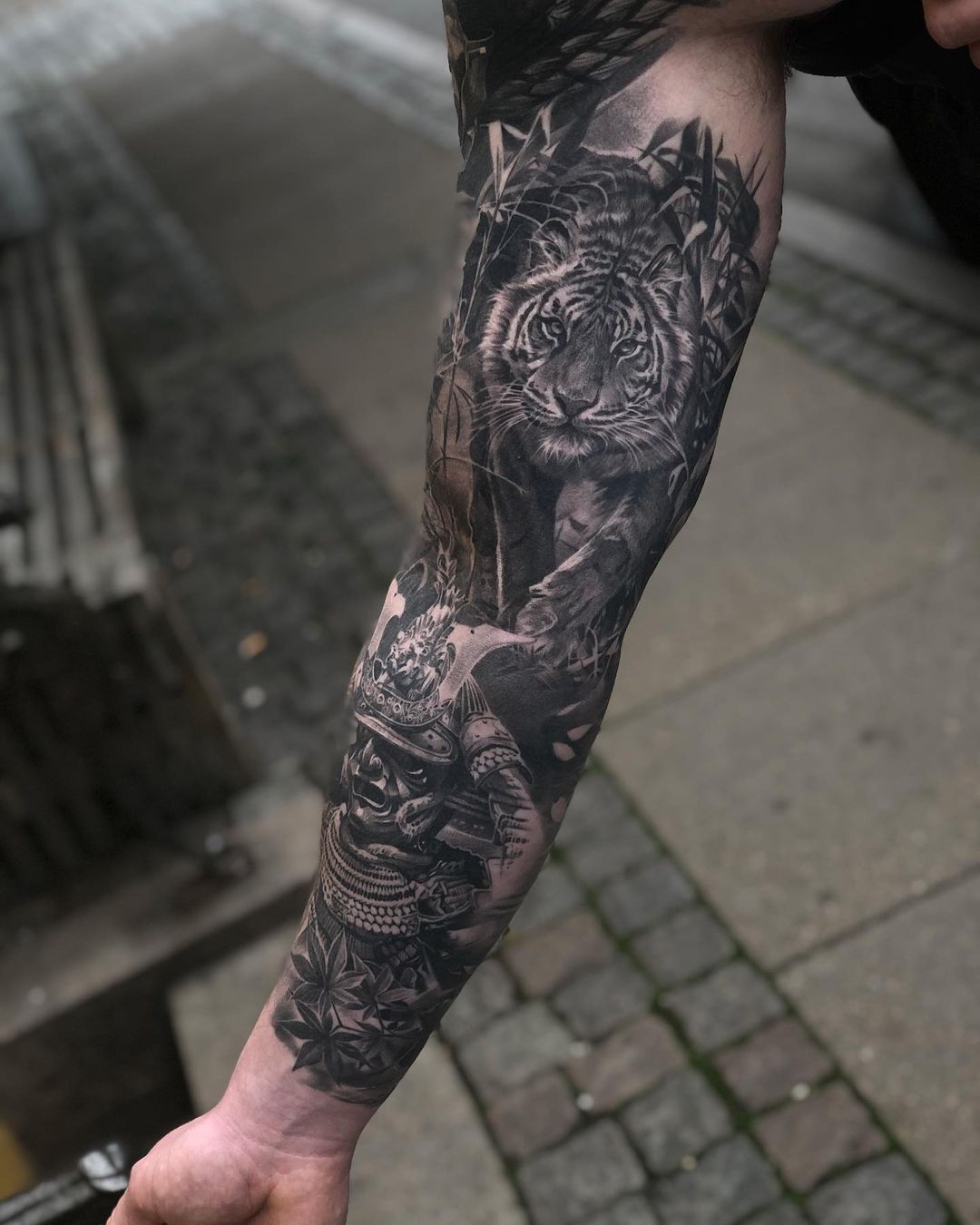 Yes, tattoo sleeves take patience because a lot of time, and effort goes into them.
You'll want to know how much it's going to cost, how many sessions it will take, the amount of pain, and of course, the design you want.  
* In this article we will be referring to arm sleeves, but all the information given can be applied to legs sleeves, too.  
Process of Getting a Tattoo Sleeve
1- Idea creation process
Ideally, you come to the shop with an idea of the sleeve you want to get tattooed, so you can discuss it with your tattoo artist and make your dream piece.  
If you want to get a sleeve but you don't have any ideas, it's also okay, we got you covered.  
In this guide, you can get inspiration and hopefully deeper knowledge about the process of getting a sleeve.
But if you need personal assistance, you can book a meeting here , so we can give you some guidance over a cup of coffee. Free of commitment, of course!  
2- Sessions Planning
Once you know exactly which piece you'll be getting, it is highly recommendable that you plan the sessions with your tattoo artist.
The number of sessions will depend on your tattoo artist (some are faster than others), the style and the size of the tattoo.  
It's important to be aware that some pieces need to be healed before the artist can keep working on it.  With that information in mind, you can schedule the sessions and get ready to start with the project.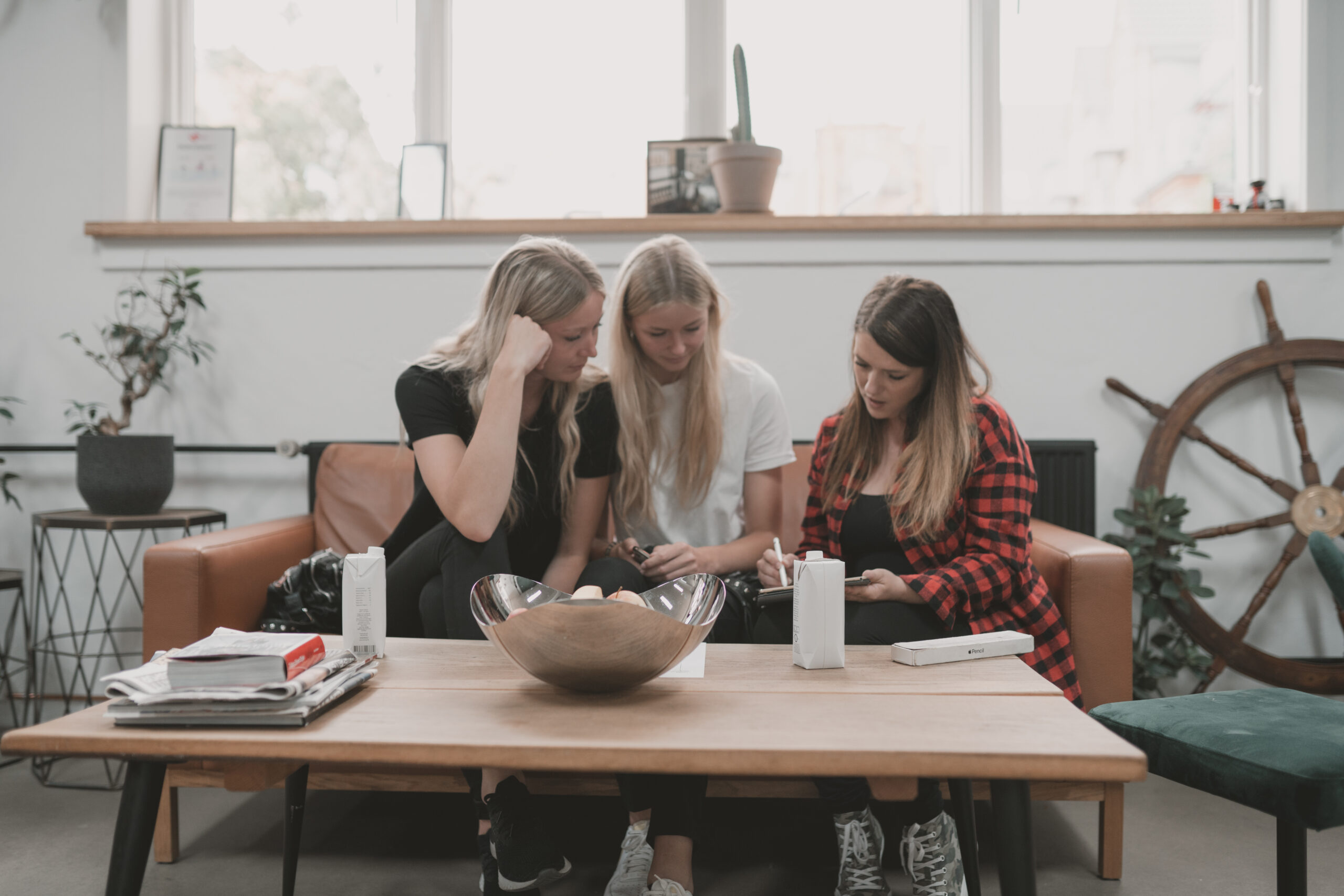 3- Tattooing Process
When getting a sleeve, you should expect long sessions.
Remember to bring water and/or some snacks, as it will keep your body in the best conditions during the process.
Many people bring their headsets, phones, or other devices so they are entertained while getting the piece.  
4- Proper Aftercare
We can't stress enough how important this part of the process is. Especially when getting a sleeve.  
Ensuring a proper aftercare process will make the difference between a good looking sleeve and an amazing-looking sleeve.
And on top of that, your skin will be healthier, avoiding any complications. It's a win-win. 
Take a look at these tattoo aftercare instructions and take care of your piece of art. 
Want to get a sleeve? Visit us, have a cup of coffee and we'll help you with your next tattoo 🙂
3 Things You Need to Know Before Getting a Tattoo Sleeve
1- Be patient.
Tattoo sleeves will take several and long sessions. But it's alright, we will make sure you enjoy the process and have a good time.  
2- A good communication with your tattoo artist is 
essential
.
Communication with your artist is important in general, and more so when talking about sleeves.
It's okay to ask, bring ideas, raise any concern.
Our tattoo artists are very experienced, and they are glad to help you every step in the process so you can get that tattoo you have always dreamt about.  

3- Make sure you come well rested to the session.
A good night sleep the day before a long session is recommended. It will help you and your skin get through the session in optimal conditions. 
Types of Tattoo Sleeves
Arms and legs are such an interesting, 3D canvas that sleeves take full advantage of. Ultimately, you can choose from a full sleeve, half sleeve, and three-quarter tattoo sleeve. 
Full sleeve
This is the most extensive tattoo sleeve you can get; it runs from the top of the arm and shoulder down to the wrist. Sometimes it trails onto the hand and fingers.  
This sleeve does not necessarily need to be just one tattoo. Instead, it can be several pieces that flow down the arm.
Typically, people like to get tattoos in the same style on a full arm sleeve, so the final product looks more cohesive.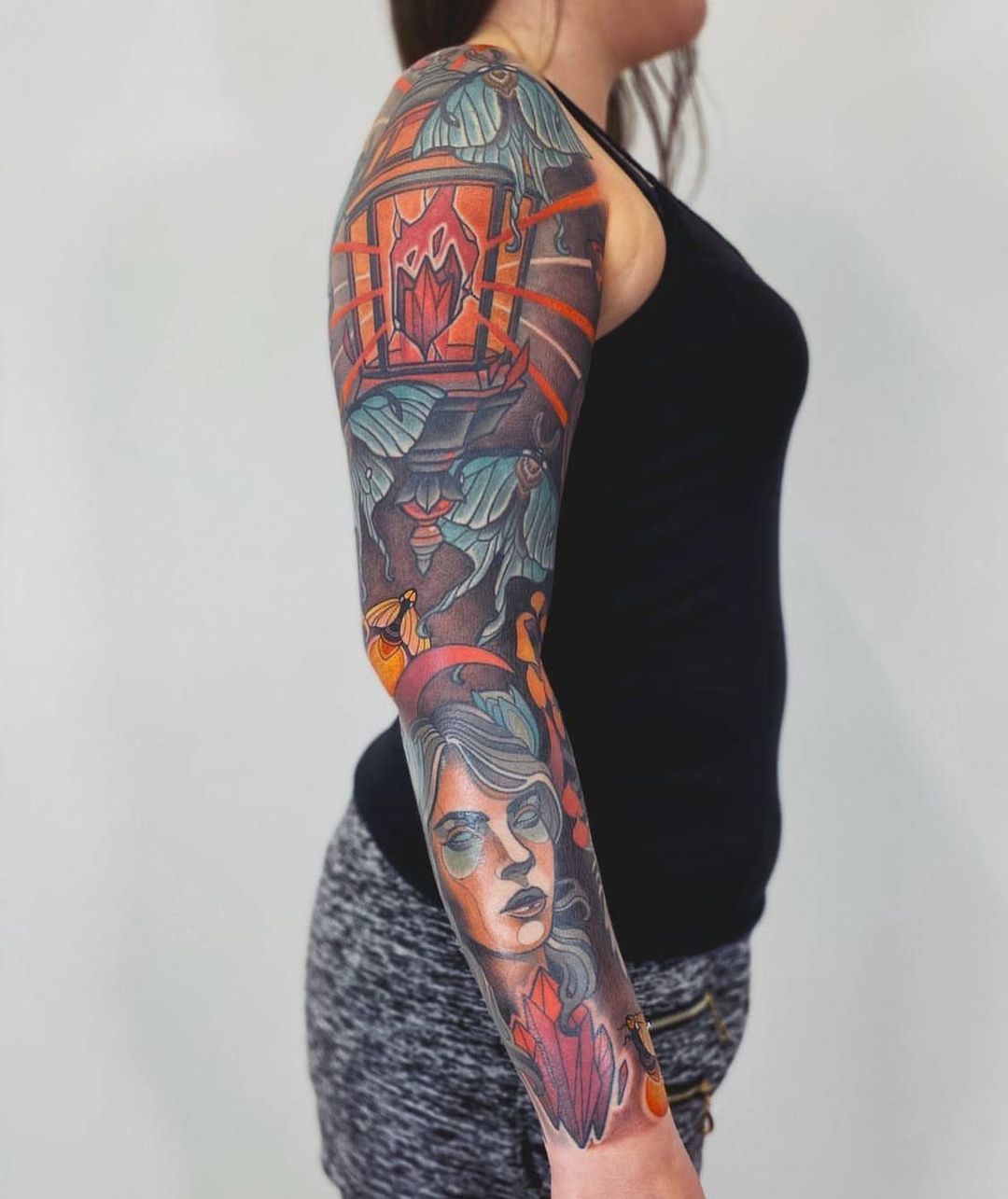 Half Sleeve
Half arm tattoo sleeves typically run from the top of the arm and shoulder to the elbow.
The top of the arm has the most surface area, so it allows for larger, more detailed tattoos. It's common to see a tattoo portrait here, or an intricate pattern.  
Sometimes people choose to have the half arm sleeve trail off into the inside of the forearm, so the outline of the tattoo is more subtle.
A sleeve that runs from the elbow down to the wrist is also considered a half arm sleeve.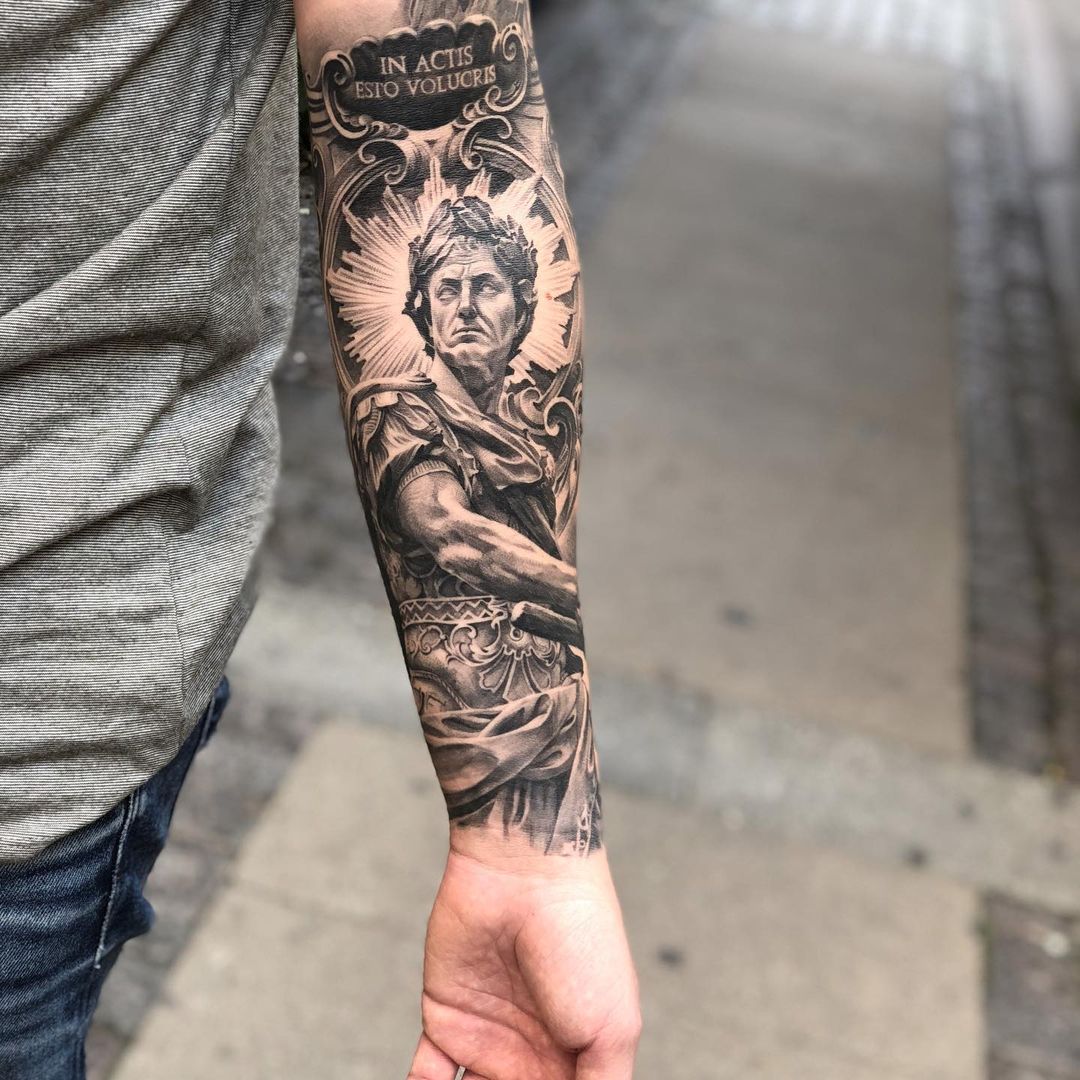 Three-Quarter Arm
Another type of tattoo sleeve that is less common is the three-quarter arm. It runs from the top of the arm and shoulder, down three quarters of the way, ending about halfway down the forearm.  
This type is more common for more abstract tattoos that can easily be added to if you want to convert it into a full arm sleeve.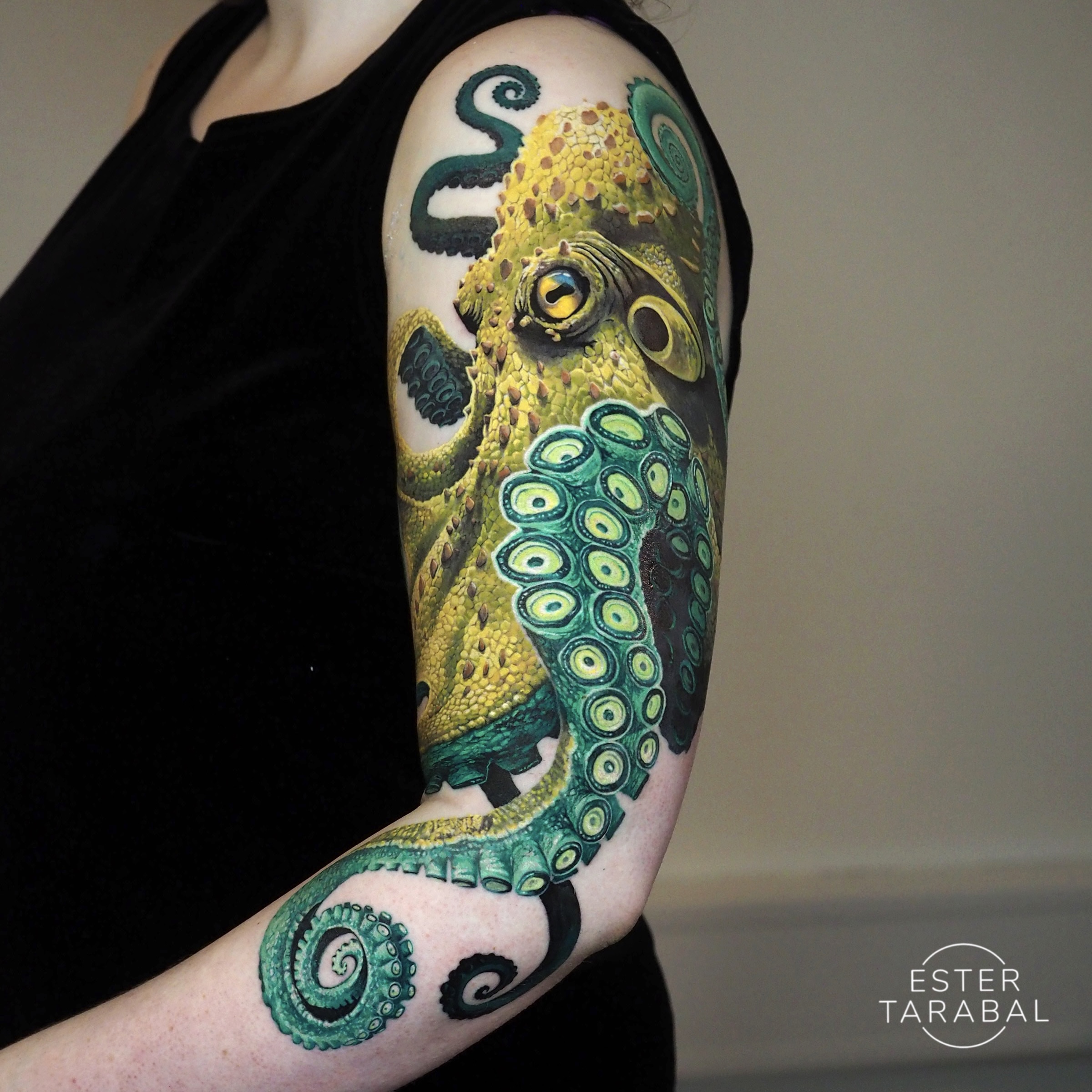 When it comes to tattoo sleeves, the options are endless.
Bring your idea to the studio, and our talented tattoo artists will combine skill, style, and originality to create a one-of-a-kind tattoo sleeve for you.
Tattoo Sleeve Styles
Here are some tattoo sleeve styles to consider: 
Viking
Nordic lore and viking culture continue to fascinate and intrigue tattoo lovers.
Viking tattoo sleeves are intricate and use lots of lines and shapes to reproduce meaningful Nordic symbols.
Popular symbols are the Vegvisir, the Helm of Awe, and Odin, which represent power and protection, normally included in a full arm tattoo sleeve, and worn as symbolic armor.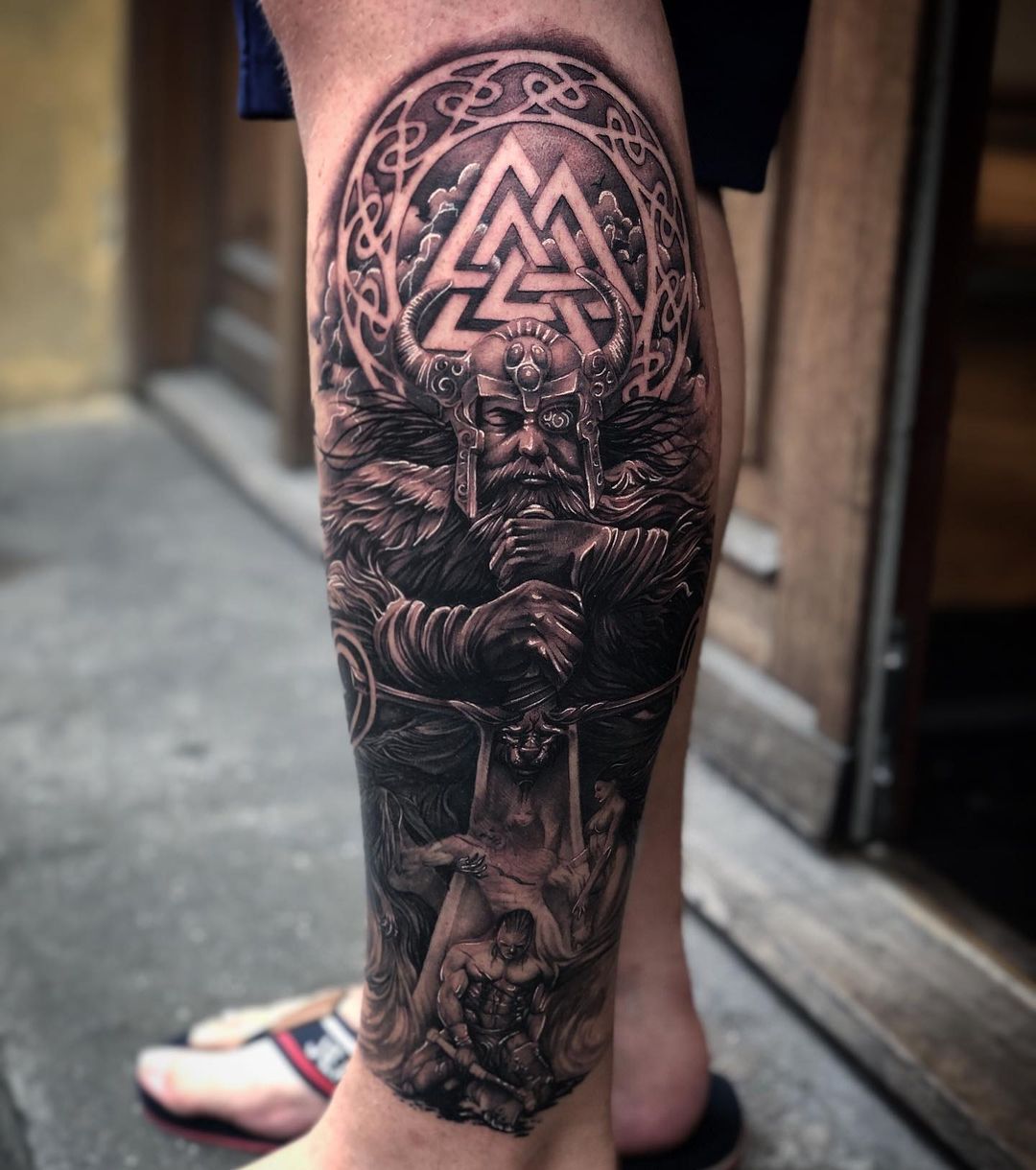 Black & Grey 
As the name implies, black and grey tattoos use only shades of black ink. Modern ink comes in a wide range of greys to achieve the perfect shading technique.
This style uses soft shading and fine lines to create everything from realistic portraits to abstract designs.
The beauty of this style is that the different shades add depth and dimension to the tattoo sleeve.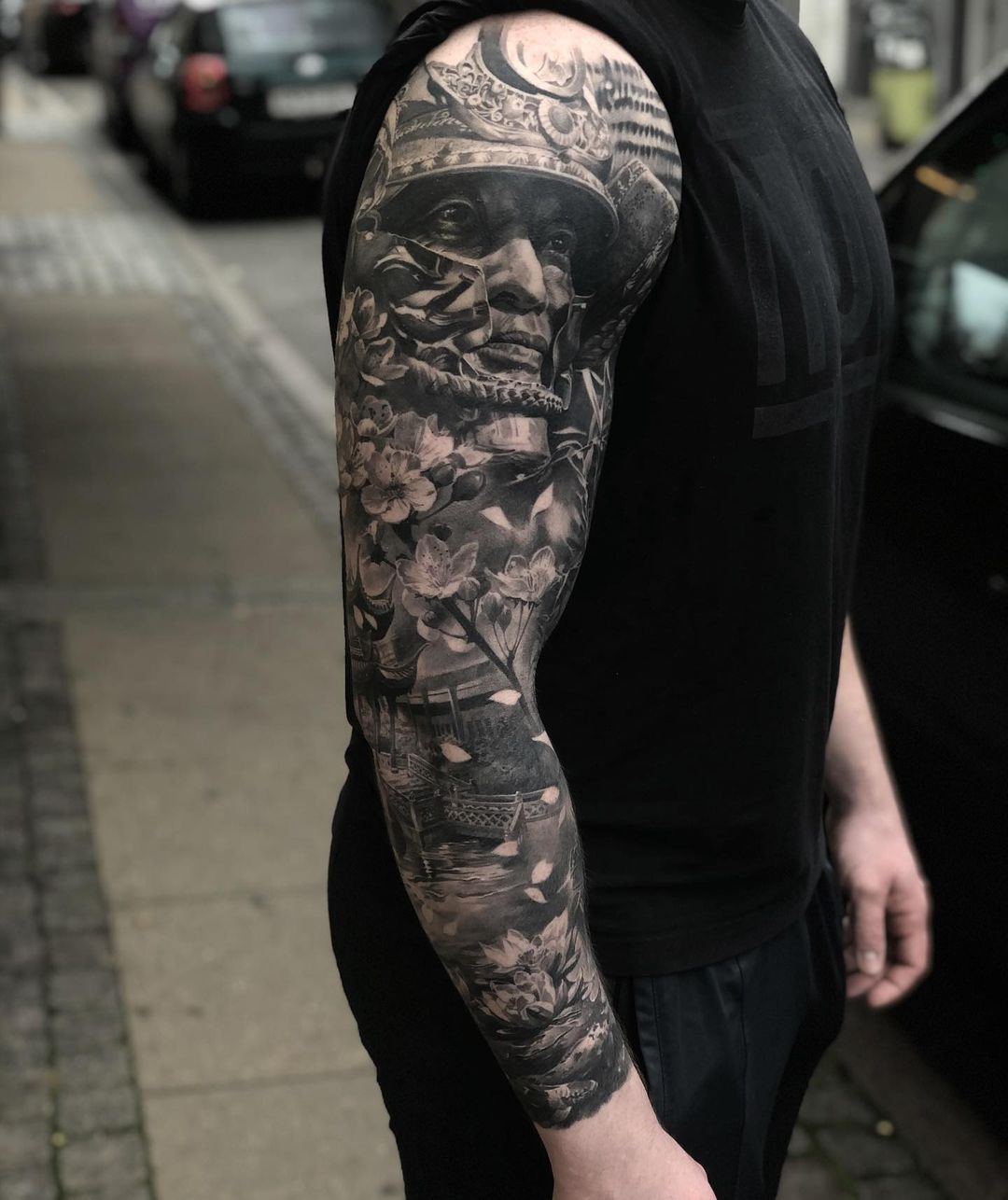 Japanese/Oriental 
Traditional Japanese tattoos always have, and always will be a popular choice for tattoo sleeves.
Modernized Asian designs include symbols like dragons, koi fish, ponds, cherry blossoms, geishas, and more. These symbols can be tattooed in vivid, bright colors or black ink.
One Japanese sleeve tattoo that has particular significance is koi fish swimming up a river in hopes of becoming a dragon.
This transformation is symbolic of perseverance and overcoming challenges in life.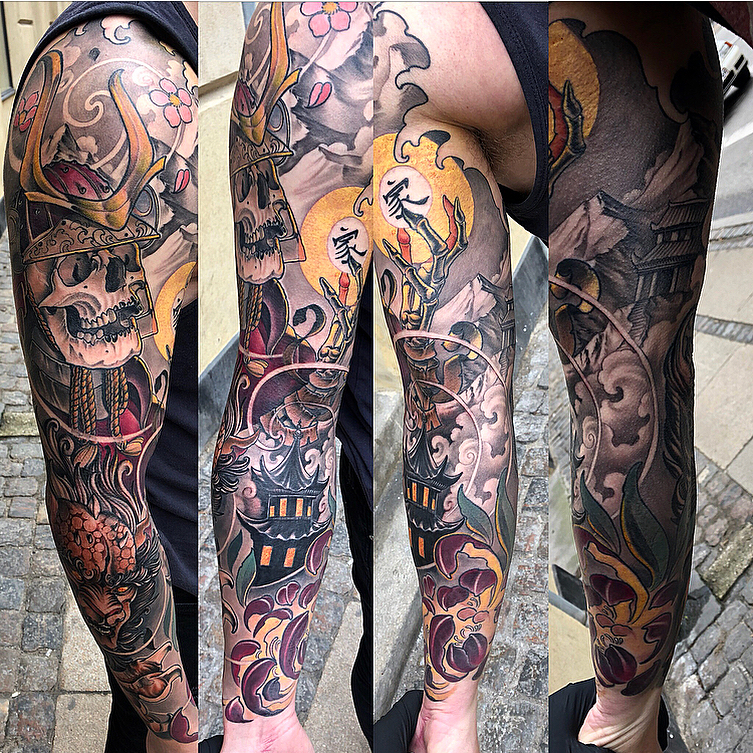 Realism 
Some tattoos look so realistic that they could leap right off your skin and come to life.
Realistic tattoo sleeves are meant to mimic portraits, animals, landscapes, and people as closely as possible.
This style is less concerned with originality, and more with making the image appear as lifelike as possible.
Realism is popular in tattoo sleeves because the arm has a large enough surface area to fit a decently sized, realistic tattoo.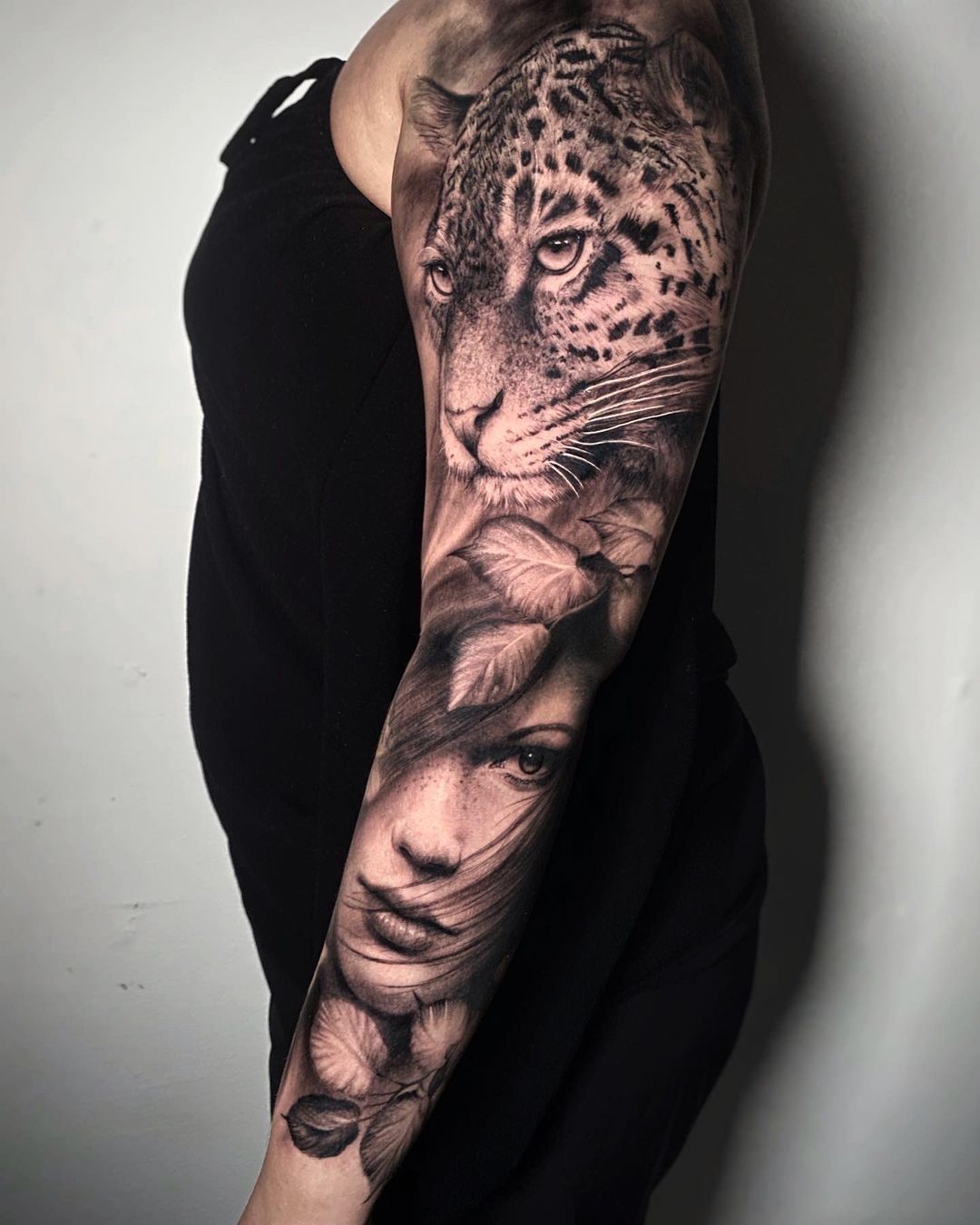 Blackwork 
The origin of blackwork tattoos overlap quite a bit with tribal tattoos simply because they both use large amounts of black ink and thick lines.
However, blackwork tattoo sleeves also encompass gothic art, engraving, calligraphy, and even geometric shapes.
Designs for blackwork tattoo sleeves typically stem from dark art symbols like tarot cards, swords, demons, and mandalas.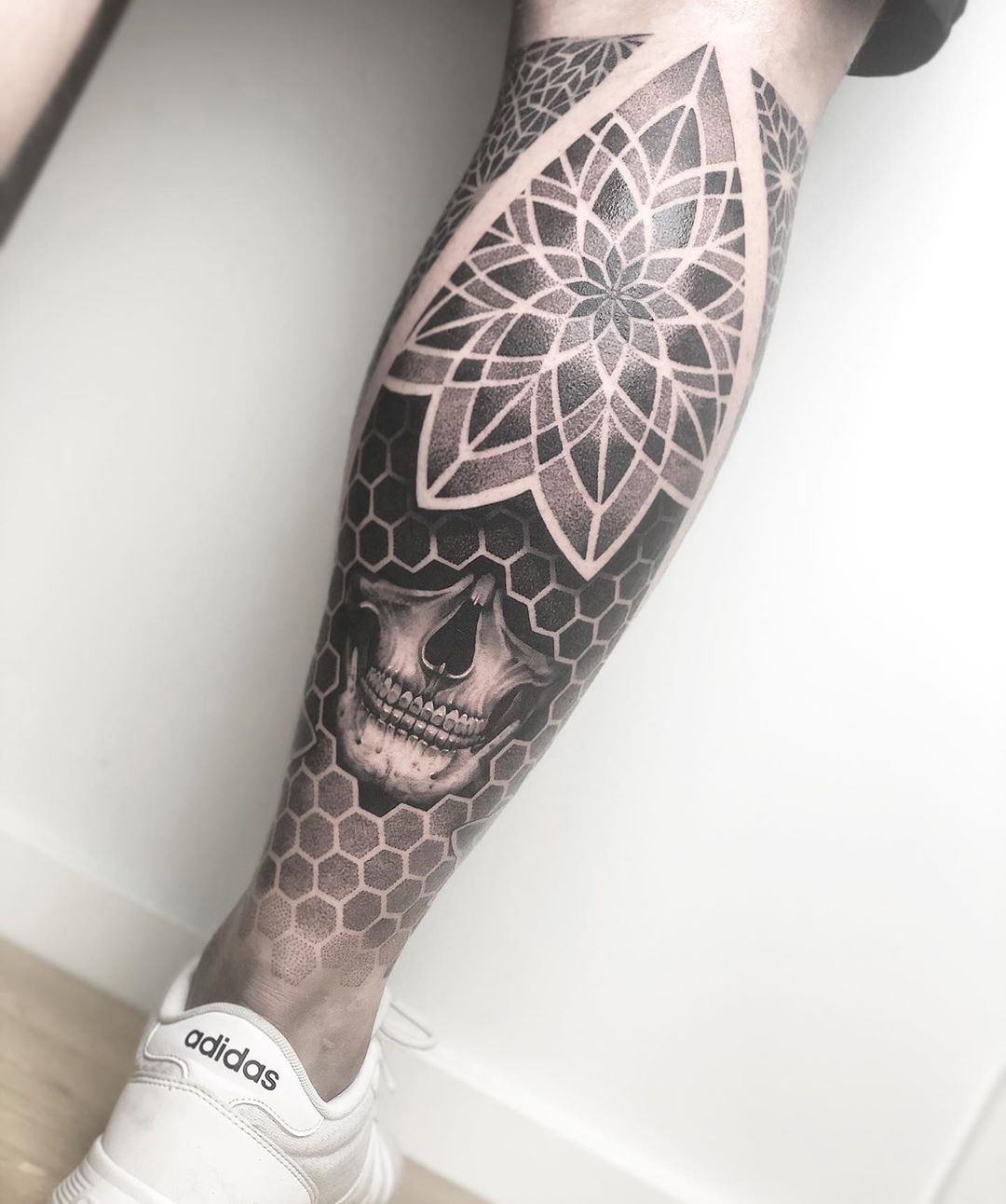 New School 
Tattoo sleeves in newschool style are characterized by bright, vivid colors, exaggerated cartoonish designs, and thick, heavy linework.
This style of tattoo is influenced by comic books, tv shows, anime, graffiti, and video games. Think of it as a highly animated version of traditional tattoos.  
Old School/Traditional
When you think of a classic tattoo, this is the style you're most likely picturing.
Popular traditional symbols include hearts, roses, anchors, pin up girls, Ed Hardy, and more.
Traditional tattoos have years of beloved history behind them, and continue to influence new styles of tattoo sleeves.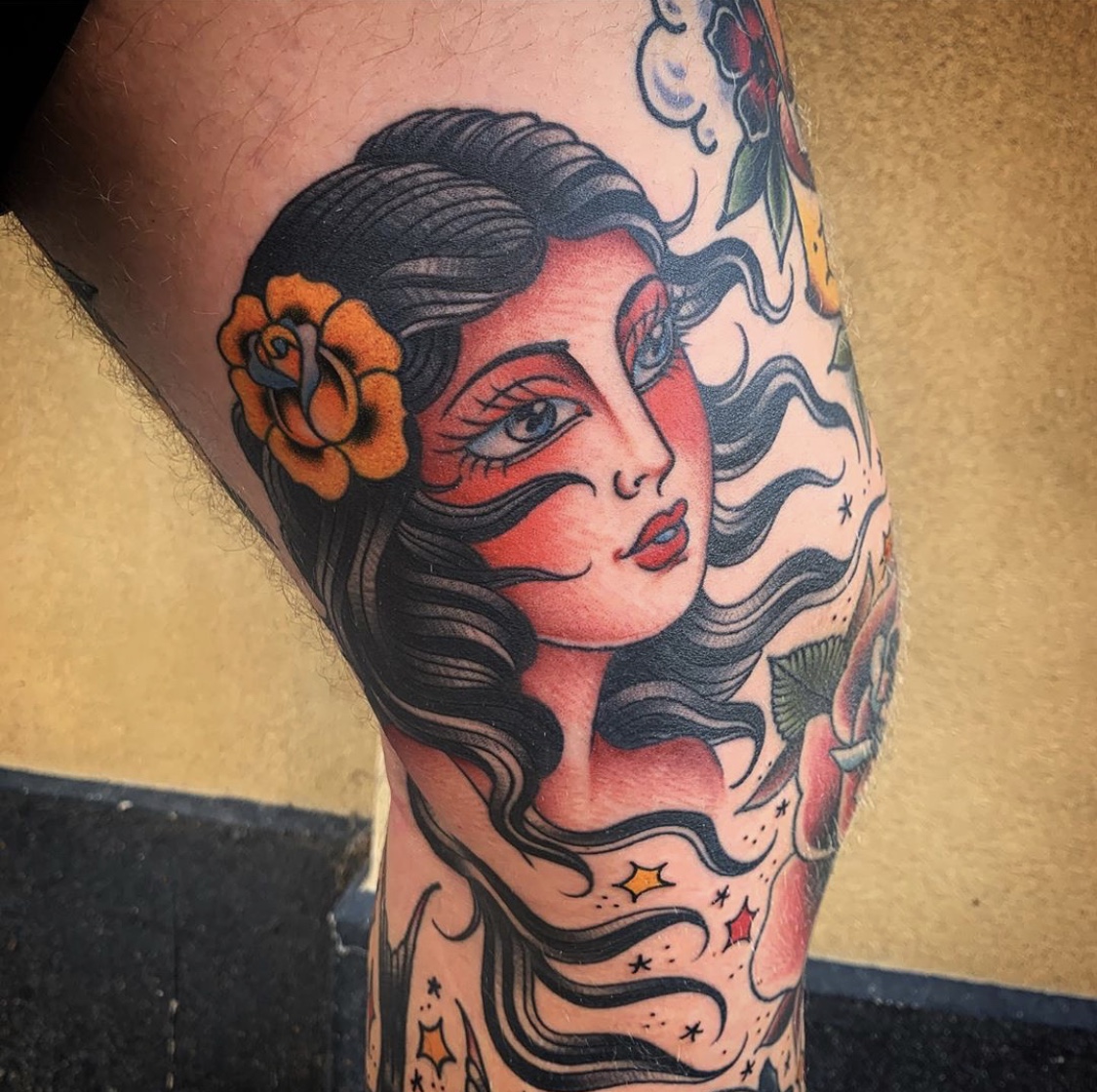 Neo Traditional
Neo traditional tattoos depict the transition of traditional tattoos into modern ones.
As a result, tattoo sleeves combine thick, traditional linework and modern, eye-catching colors.
Common neo traditional tattoos include flowers, animals, and portraits of women. 
The main difference between traditional and neo traditional is the color palette; neo traditional tattoo sleeves use vibrant, sometimes shocking, colors.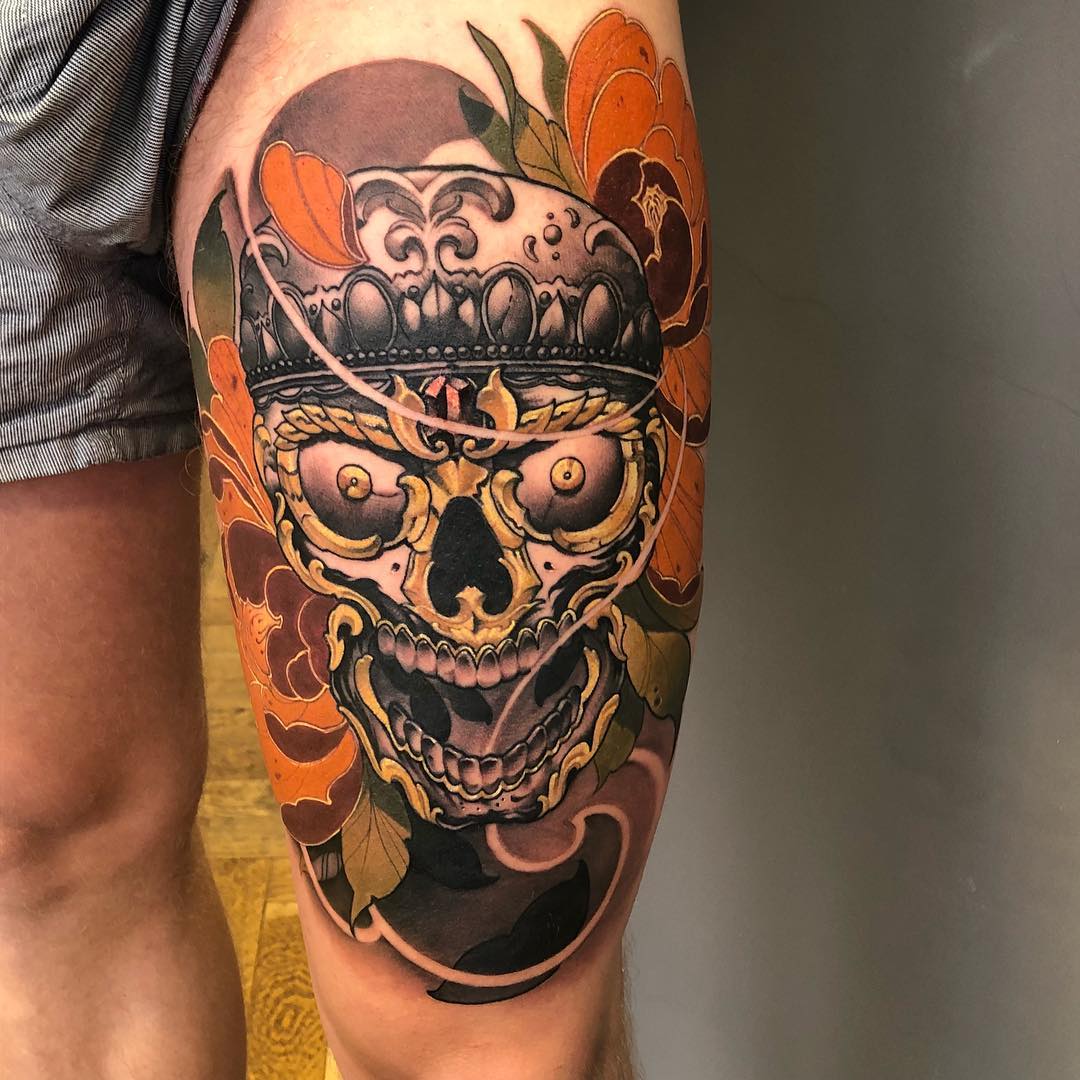 Watercolor
Watercolor tattoos are one of the newer trends for tattoo sleeves, and have become very popular because they are aesthetically pleasing.
The finished product of a watercolor tattoo sleeve appears like someone painted a work of art right on your skin. The gentle strokes and fine linework looks like it was done with a brush rather than a needle.
Tattoo sleeves in the style of watercolor use very little black, and rely on bright colors blending together to create the outline.
Popular watercolor tattoos include animals, landscapes, and geometric shapes.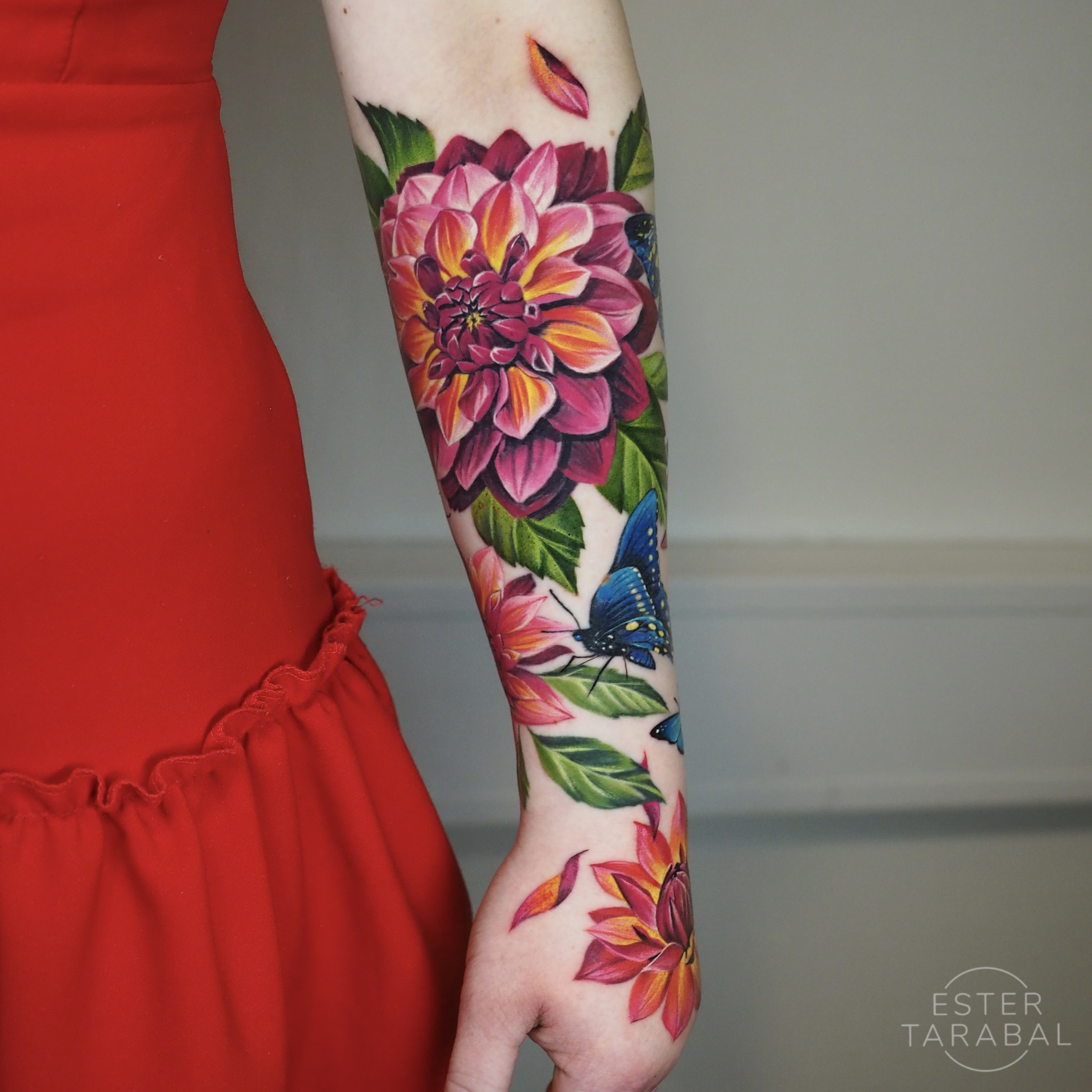 Abstract
Abstract tattoo sleeves have become very popular, especially because they can be done with nearly any color palatte.
What makes a tattoo sleeve abstract is the lack of outline or structure.
It frees up the design and allows the tattoo sleeve to flow more freely up and around the arm, adding touches of color and lines as the artist sees fit.
Designing an abstract tattoo sleeve can be difficult because the possibilities are truly endless.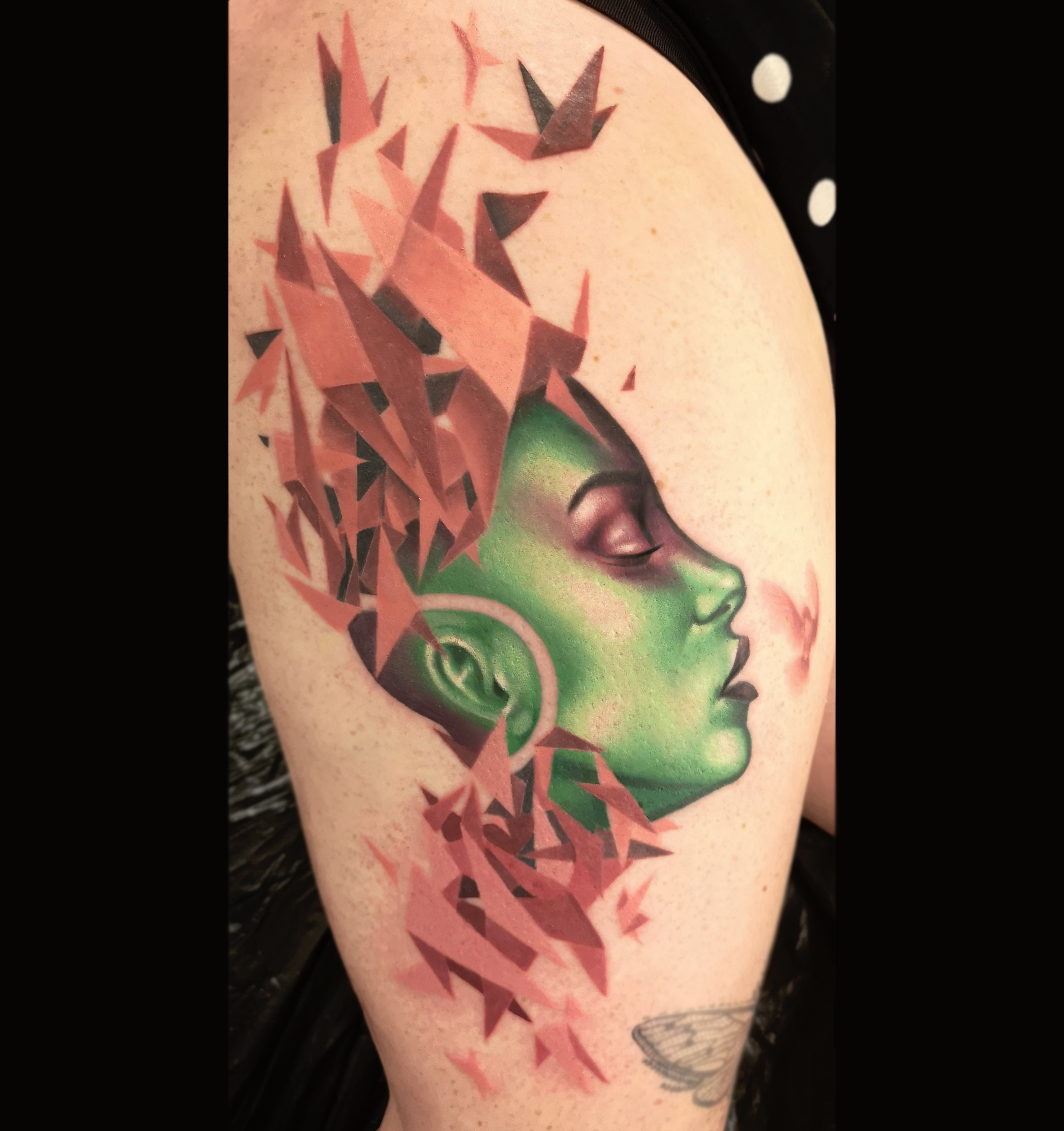 Polynesian/Māori
Polynesian tattoos are some of the oldest forms of tattoos, and were used to tell a story of that person's life through geometric patterns.
Tribal tattoos are one of the most popular styles for tattoo sleeves because they can easily cover large surfaces, and the final product looks intricate and cohesive.
These type of tattoo sleeves are done in all black ink, with thick lines and symmetrical, geometric shapes.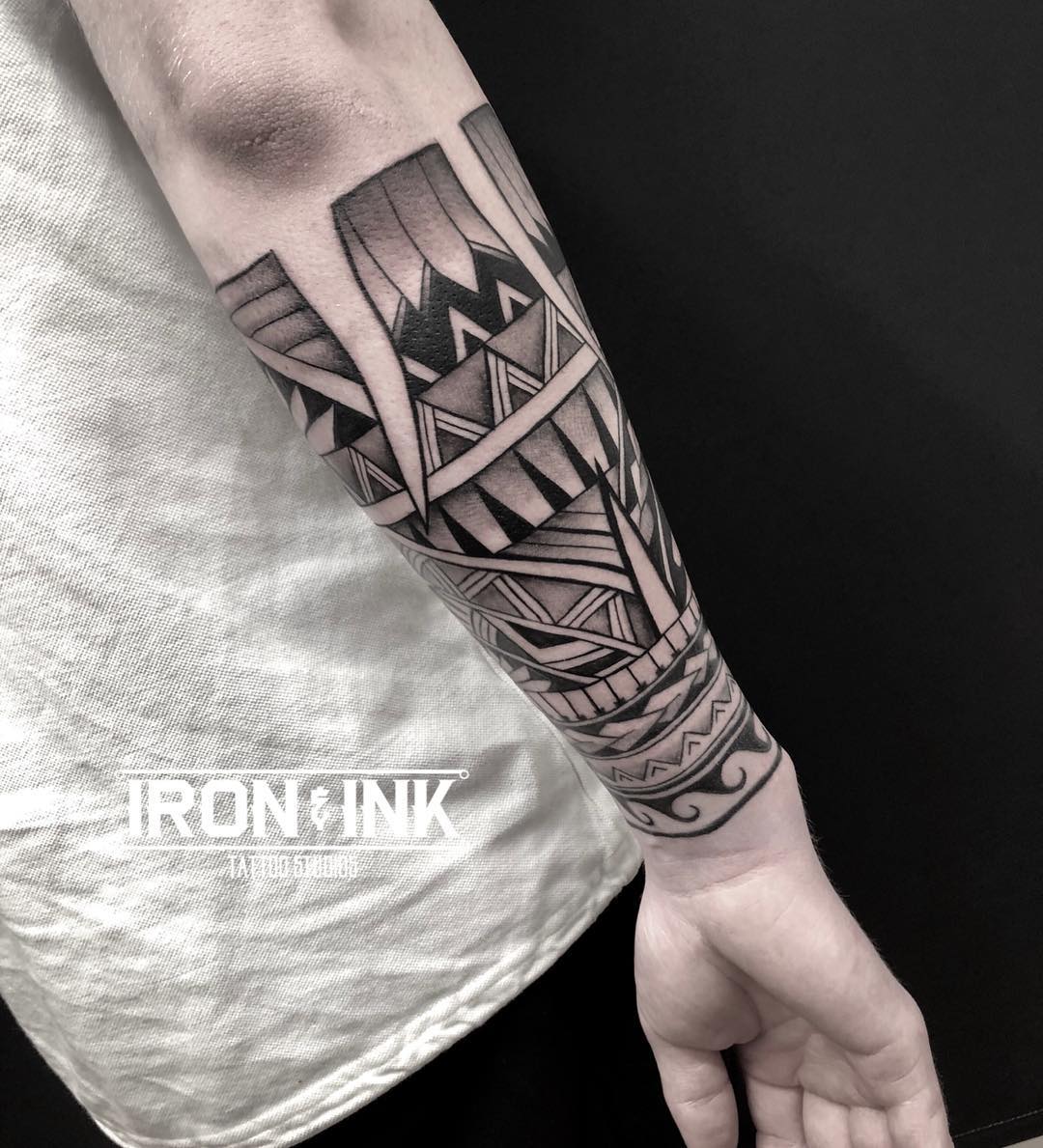 Geometric
The aesthetic and satisfying symmetry of geometric tattoo sleeves is what makes them so eye-catching.
Geometric tattoos are delicate, mathematical, meticulous, and the linework makes or breaks it. Artists combine precise shapes, fine lines, dots, and patterns to create a beautiful tattoo sleeve.
Geometric tattoo sleeves are usually done only in black ink, but some people like to add color.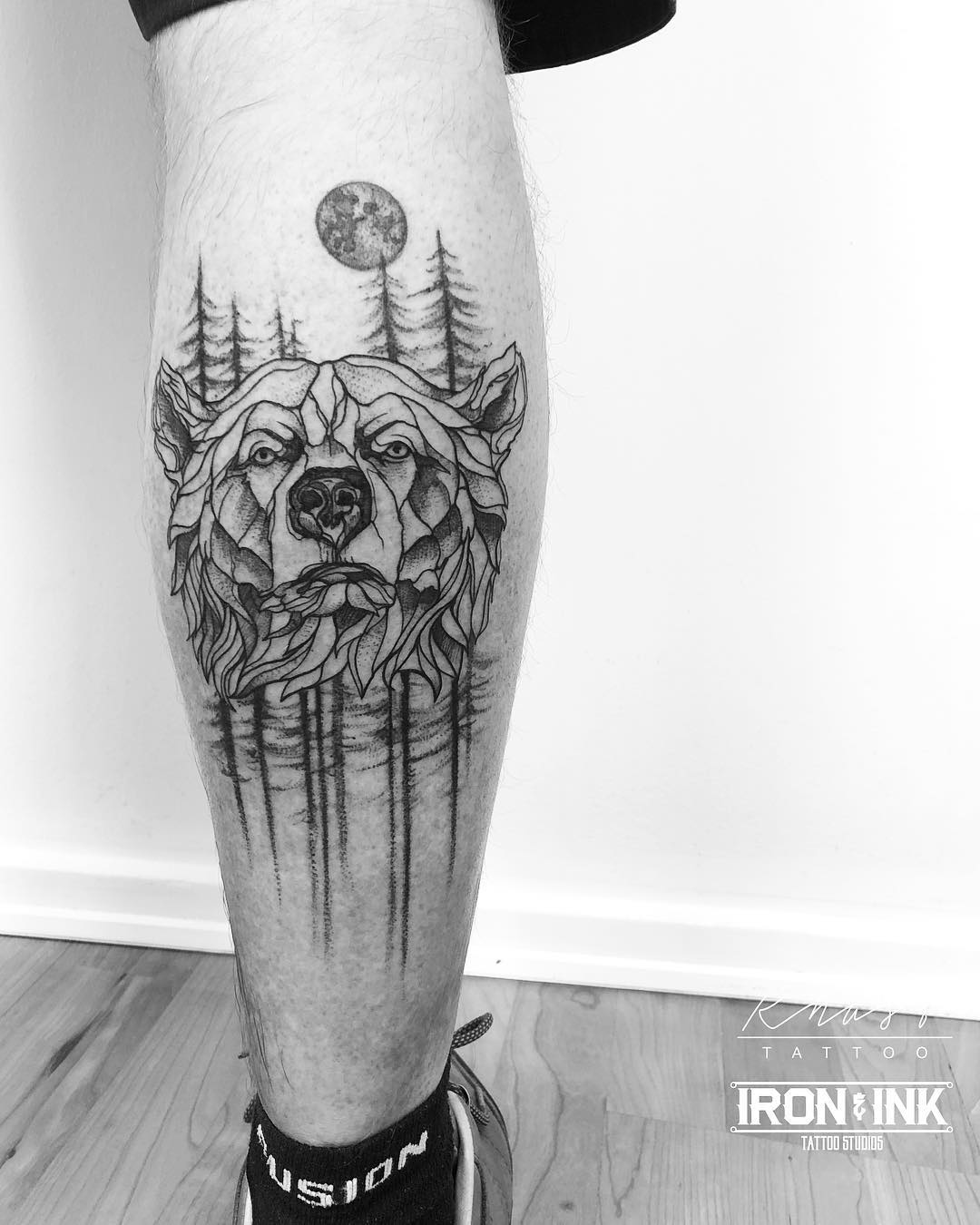 How Much Does a Tattoo Sleeve Cost?
For larger tattoo designs like full arm sleeves, you should expect to pay hundreds, even thousands, of dollars.
Our tattoo artists will be happy to consult with you about the design of your tattoo sleeve, and give you an estimate of how much time and money it will cost.  Contact them here.
Experienced artists will be able to take the tattoo sleeve you had in mind, and alter it to fit within your budget. 
There are several factors that go into determining the price of a tattoo sleeve, including: 
Location 

– major cities are more likely to charge higher rates than smaller towns.
Artist 

– who you choose as your tattoo artist will also affect the cost. More well-known, popular artists charge higher rates, while those with less experience charge less.
Size 

– full arm tattoo sleeves will typically cost more than half arm sleeves. Keep in mind, the larger your arm is, the bigger the tattoo, and the more it will cost.
Style 

– some tattoo sleeve styles are more difficult and time consuming than others. For example, realistic tattoos take much more time and ink than an abstract tattoo. The more complex your design, the more expensive it will be.
Learn more about tattoo pricing here: How Much Do Tattoos Cost?
Does Getting a Tattoo Sleeve Hurt?
Getting a tattoo sleeve does hurt.
What makes tattoo sleeves painful is not so much the location, but the amount of time you spend under the needle.
Full and half arm sleeves take multiple sessions, each several hours long, so it's good to be aware of the process before taking the step.
Areas on the arm that are most painful to get tattooed are the elbow, inner elbow, wrist, and armpit.
We all have different pain thresholds, but if you know you aren't great with pain, then a tattoo sleeve might not be for you. 
Learn all about tattoos and pain in this article.
5 Facts about Tattoo Sleeves
1- Sleeves are prohibited in the US Marine Corps
The US Marine Corps prohibited Marines from getting an arm tattoo sleeve after April 2007. The Marines who already had them were grandfathered in, and could keep theirs.
2- Hearts & Angels are the Most Popular Motives
The most popular tattoo symbols are angels and hearts. Whether that's for spiritual or aesthetic purposes, they remain the most popular.
3- New Zealanders: Most Tattooed in the World
New Zealanders have more tattoos than anyone else in the world because of their ties to Polynesian and Māori culture and tribal tattoo sleeves.
4- More women have tattoos than men.
5- Arms for Men, Ankles for Women
The most common tattoo placement for men is on their arms, while for women it's the ankle. 
Summary
Tattoo sleeves are a long-term decision that requires lots of skill and patience.
There are so many different styles and symbols that go into creating a tattoo that deciding on just one can be nearly impossible.
That's what makes tattoo sleeves so unique, you get to combine many different shapes, symbols, colors, and styles to create one cohesive piece of art that you'll be proud to have. 
Follow us on social media